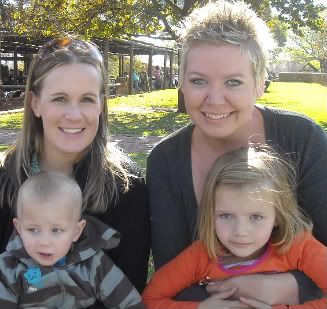 So at long last, (3 years) I finally got to meet Nicki and her gorgeous boy Connor. (I've known the little boy since he was 2 lines on a HPT LOL). We had a great afternoon at the Irene Dairy farm along with some friends from Mommy. It was good seeing you ladies again and the kids are still as cute as ever!

What will the month of June bring us? I'm hoping some answers and a lot of luck. Not just with TTC efforts but over all. I(we) could seriously do with a lucky break.

I'm getting my nails done this morning. A friend of my sisters needs a "model" for her exam. She is studying nail technician (something like that). I don't mind, I get a free manicure... (and if she can convince me a pedicure too.)

And that is all from me. My mind is some where else, so let me rather go find it.