Please note these are NOT my own u/s. I got them off Google images, just so that I could show you what mine more or less did look like…..

Uterine Lining:



All perfect. Gyn/Ob very happy with the lining.

Ovary and Follicle: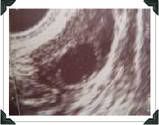 I had one follicle on the right measuring perfect for ovulation within the next day or two. Then 3 smaller follicles on the left. But we doubt that they will mature enough. So I guess we have one good looking follie to make do with.

Doc is still on my case about my weight and blood pressure. I nearly whacked him across the head. I've lost 4kg so far, and I know I have another 6 to go. But please….. Give me a break. I'm trying my utmost best against this war of the scale. I got really upset when he said "at the rate you are losing weight, we might be waiting another year before you fall Pregnant."… **gasp**

I'm glad I didn't write this post when I got home from the Doc. It's taken me 3 and a half hours to collect my emotions and think level headed about all this.

The new POA is that we do another 3 rounds of Clomid, and then do a laparoscopy if no Pregnancy is achieved by then. Oh please God, I can't do this any longer…..