Wow, I got given a "One Lovely Blog Award" by Propeller Head Mom Thank you so much! If any of you have some "get better vibes" hanging around, please go dust Christine's blog.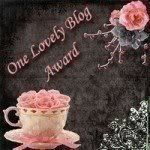 The rules of the "One Lovely Blog Award" are:
Accept the award, post it on your blog together with the name of the person who has granted the award, and his or her blog link. Pass the award to 15 other blogs that you've newly discovered. Remember to contact the bloggers to let them know they have been chosen for this award.

At first I wasn't sure who I would like to forward this award to. But I've discovered a few new blogs recently, especially since I've joined Twitter Moms. I of course had to throw in good friends/old blogs I've been reading because I think their blogs deserve it! Also found some inspiring blogs that deal with infertility.

I would like to pass this Lovely award on to the following blogs:

Chanda from Other Everyday Stuff

Rentia from Super Mom

Tiffany from The Pifer Family

Buzzy's Mama at The Buzz & Less

Morrisa V at Vollmerhausen Family

Laura at Ziggys

Michelle at Simply Blessed

Single Mama at Single Mama Challenges

Amy at Every day Mama Drama

LZ at My messy paradise

Megs at Finding Family

R. Wallis at True Beauty

Kelli at Praying for our Little Miracle

Hillary at Making me Mom

Karien at Life's Miracles

Go pop by their blogs and see why I think they are LOVELY!

Edited to add: Ok, I got past the nervousness of letting my nominee's know that I gave them an award. It's quite nerve racking! But I've enjoyed discovering these new blogs!