We had such a great weekend. I'm a hotel loving kind of girl. You know I need all the creature comforts. I don't do well in the bush. Until this weekend…..We went away with M&H and another Friend Couple (L&F). To a farm about 40km outside of Britz. It was M's bday on Friday. This is the first time we have actually done something for his bday. We usually have a small braai or dinner. But this year it was a glorious weekend away.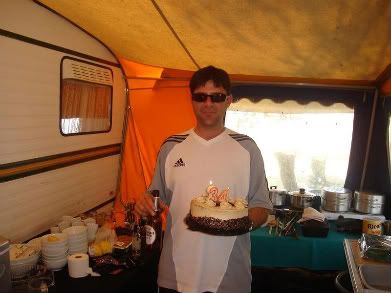 Our accommodation was 3 old but very comfortable caravans with a lovely area in the middle for making huge bon fires. We were at the end of the farm, so we were pretty much secluded. Very peaceful. Every now and then some horses would pass by and stop for a chat. Our evenings consisted of sitting around the fire playing Poker or 30 Seconds. We even managed to get a good game of charades in. All good fun. I think I got over the fear of making my name ass in front of other people. Our days consisted of food and water fights. Of which McK hid away, didn't want to know anything. She was so disgusted that we adults could throw cupcakes at each other. And you should have seen her face when DH threw a bucket of ice cold water on me. I think she thought I was going to do some seriously bodily harm to her daddy. Which I almost did.

McK thoroughly enjoyed the whole weekend.. She was in her element. I'm so proud of her. Not once did she complain or throw a tantrum. She was on her very best behavior. Now those that know, my lil angel doesn't swear at all. She will give you the evil eye if you say a naughty word. Saturday morning after watching the sun rise, we were sitting on a blanket colouring in. Every now and then this strange smell would come over the dam. So I say to DH, "Sjoe, but it does smell a bit hey?"… McK looks up from her colouring book, and says "maybe it's from the crocodile crap…" DH and I almost fell off our chairs. It was so funny. Then when she realized what she had said, she went blood red with embarrassment and proceeded to tell me that she meant crocodile poo. And that crap is an adult word…… "Since mommy uses crap a lot"…… Note to self, watch your language usage in front of the child.

Oh and I Marcelle, peed behind a tree…. not once… but about 15 times. Now this is BIG for me. P-ing in the open bush. What an accomplishment. I don't think I'll ever be the same again LOL.

Here are a few more photos from the weekend… Enjoy….