It's been a hectic weekend. Filled with lots of emotions, cries, laughter and smiles. I'm just so thankful that I have good friends to share it all with. I'm glad we can be there for each other and have someone to lean on.

McK of course had a great weekend. She slept over at her Uncle Precious house on Friday night. Can you believe her and her Uncle stayed up till 1am watching South Park.. and other cartoons… But hello, I don't think SP is appropriate for a 4 year old. LOL.

Then on Saturday we went to friends of ours that we haven't seen in ages. It was nice catching up with them. It is great getting another opinion on what is going on in our lives. It was great getting an excited response about DH's job interview today. McK got to play with her "boyfriend". And they had a great time. It's so nice that McK can speak Afrikaans so well, so now there are no language barriers between the two. So sweet.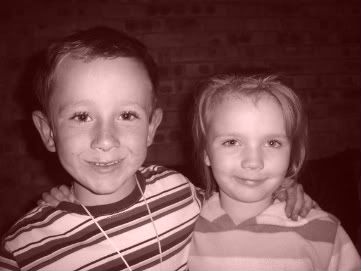 Yesterday was a tough day. But I'm glad we got through it. There were things that needed to be said and a lot of emotions/feelings were opened up. Its always good to get things out there. That way everyone knows what we are all dealing with. You can't keep heart ache to yourself. You need to share it. We don't always have the answers, but we sure have a lot of love to give. I think we (DH and I) benefited a lot by our conversation yesterday with our close friends. I'm sure it was just as good for them to get their feelings out. I feel as if we are now on the same level. Well sort of. I can't feel their heartache, but I can try to understand it.

I almost don't want to jinx it, but DH is going for a job interview today. PLEASE cross fingers and toes that he gets it!!!

Oh and we have just entered the 1ww :) Almost testing time!!!