I've always seen these out and about in the blogging world. So I'm very happy to announce that my blog got nominated by Megs.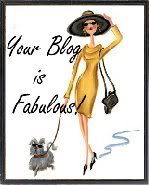 Now it's my turn to give this award to five fabulous bloggers! So here they are:

I've followed Candi and Steven's quest for baby Carter since they got their BFP
http://ivfinglife.blogspot.com/

Nancy's blog http://thenewlifeofnancy.blogspot.com/

TTC from a man's view, I love this blog http://xbox4nappyrash.blogspot.com/

One of the few blogs that aren't TTC related: http://loopyliz-loopyliz.blogspot.com/

And where would I be without the creator of mommy: Mrs B http://mortalmodels.blogspot.com/

My Fabulous Five Addictions:

1) My angel pie McKenna, who I live and breathe for

2) My TTC support system, who are now my good friends in all aspects of my life

3) My two best friends, M&H, who I love to heaven and back

4) POAS, come on you know I had to throw that in

5) To helping and supporting anyone wanting help with TTC

Here are the rules to receiving this award:

1. You have to pass it on to 5 other fabulous blogs in a post.

2. You have to list 5 of your fabulous addictions in the post.

3. You must copy and paste the rules and the instructions below in the post.Instructions: On your post of receiving this award, make sure you include the person that gave you the award and link it back to them. When you post your five winners, make sure you link them as well. To add the award to your post, simply right-click, save image, then "add image" it in your post as a picture so your winners can save it as well. To add it to your sidebar, add the "picture" gidget.Also, don't forget to let your winners know they won an award from you by emailing them or leaving a comment on their blog.